The History and Evolution of the No Deposit Casino Bonus
Online casinos have been around since the mid-90s. In 1996 there were only 15 sites for players to choose from and this jumped to over 200 in 1997. This number has increased exponentially since then with new gambling sites opening their virtual doors every month. As consumer awareness increased for this unique market, casino operators wanted to continue growing what seemed at the time a lucrative idea - gambling on the internet. Along came the advent of the casino bonus. Initially, these promotions were deposit-based and offered small "match" bonuses where operators matched the first deposit a player made. As the market grew and competition increased, the free no deposit bonus chip offer was introduced in 1998 as operators fiercely competed for early-market dominance. In today's online gambling world, the no deposit casino bonus has become the most sought-after promotion and it can come in the form of free spins, free cash, and timed bonuses. For a more detailed explanation of each of these types of online casino promotions, be sure to review our no deposit section.
How Do No Deposit Promotions Work?

The no deposit casino bonus was created as a marketing incentive by casino operators to encourage new players to sign up at their site. In return for registering, new customers were given some free money to try out the games and have the chance to win real cash - and that's precisely why NoDepositWow loves searching for the best offers. It worked a treat and casino operators saw a massive increase in not only traffic but new players. Today it's the same but like everything else, free doesn't necessarily mean free and in order to cash out your winnings, you have to clear what the casino calls wagering requirements. This is the number of times you are required to play-through the free credits before they become cashable. Another stipulation of 'NDB' withdrawals is that players are required to make a minimum deposit before the cashout is approved. These terms were designed to deter fraud and retain players while ensuring these promotions remained profitable instruments to acquiring new customers.
A Historical Timeline of These Online Casino Incentives
There are a number of different types of no deposit bonuses being offered to online casino players and these are constantly changing due to competition and new regulations coming into law. This is most commonly seen in the UK where the UK Gambling Commission is constantly updating their gambling laws and how "free" offers are promoted to players. Before looking at that, let's take a look at the evolution of this type of promo and how it has evolved.
1998 - Coupon Codes
Back in the early days of internet casinos, the software had to be downloaded by players. One of the first casinos was Windows Casino which came in the form of a CD ROM that players installed on their computers. It used RTG software and in a bid to encourage players to try it out. With the help of the American software provider, RTG casinos could include a special coupon code with the purchase of the CD so that players could try the casino out for free. The coupon code was around $5 and players who signed up for an account could input the coupon code. RTG was the only casino software provider that offered the no deposit bonus code, and this led to Windows Casino becoming one of the biggest in the world at the time and the emergence of no deposit bonuses as a great way to encourage new players to sign up with casino websites. Since the virtual extinction of CD-ROMs, many casino sites now allow players to redeem the codes directly in the casino cashier - whether that is on the website, the downloadable software or the mobile app.

2000/2001 - Auto Credited
With the success garnered by RTG casinos, more operators began to look at the no deposit bonus and Playtech and Microgaming casinos followed with auto-credited bonuses that didn't require a coupon code. Macau Casino powered by Playtech was the first to offer a no deposit bonus. New players received bonus cash as soon as they completed the registration form and there were no codes necessary which made it easier for players to signup and test out the casinos without having to make a deposit.

2003 - Free Spins
After the successful introduction of freerolls by Party Poker and other online poker sites back in 2003, online casinos began to introduce free spins bonuses. With the rise in popularity of video slots and the advances in technology, free spins, now the most popular of all bonuses, were launched. New players were given a fixed number of free spins on a popular slot machine when they registered with the casino. The spins generally came from software providers like NetEnt, Microgaming, Playtech, and Betsoft, and slots like Starburst and Gonzo's Quest were often a popular choice. Because of the success of free spins offers many casino operators began to attach them to deposit bonuses too and in recent years the introduction of non wager free spins has garnered a lot of traction. With no wager spins, players get to keep what they win and can cashout their winnings immediately without having to worry about meeting a playthrough requirement.

2003/2004 - Free Rolls
Online poker sites were huge back in the early '00s and seeing the success online casinos had garnered by offering free bonuses, Party Poker began to introduce their own no deposit offer in the form of poker freerolls. These were free poker tournaments that players could take part in and win real money. While Party Poker wasn't deemed the best software, they used TV advertising and even pitched their own Poker show to ESPN back in 2003. Again, it worked brilliantly, and freerolls are still popular today.

2005/2006 - Free Bets
Not content with letting online casinos have all the action, online sportsbooks, in particular those in the UK, jumped on board the no deposit train and they too began to offer free sports bets to those who created an account. William Hill and Bet365 were a couple of the big brands offering £5 free bets in the UK in a bid to take some of the online competition. Free bets can no longer be advertised in the UK due to changes in the laws made by the UK Gambling Commission who has placed heavy restrictions on the advertising of betting offers in a bid to enforce responsible gambling.

2006 - Time Based
While the free cash no deposit bonus worked well, it usually only gave new players the opportunity to play slots or scratch card games and leading software provider Microgaming came up with a new time-based no deposit bonus. The concept was unique - get free money to play any game(s) in the online casino that you want for a set period of time and keep your winnings (albiet with wager requirements and max cash-outs). Casino sites like Golden Tiger and Royal Vegas started promoting offers like '1 Hour Free with $1500 - No Deposit Required!' . This new time-based offer saw new signups receiving a large credit balance and an hour to play as many games as they wanted. There were no restrictions on the games allowed and players could keep what they won up to a certain amount once the wagering requirements were met. The free time offer was a huge success and a very clever marketing ploy, but unfortunately, not many players got to cashout any winnings because they either lost the credits before the time was up or couldn't meet the wager requirements needed to withdraw the funds. It is not as common today although some players still like to look for free time bonus codes. Since then, free chips and free spins dominate this promotional space.

A Deeper Look at Free Spins
Free spins are as popular today as they were 20 years ago and are often the dominant force at online casinos. There are three different types to look out for.
First Deposit Spins : This is the original offer that many online casinos adopted and it's still popular today. The aim was to entice new players to sign up and make a deposit and in return, the casino would give them free spins to use on a selected game of a range of slots from a particular software provider. While this sounded great to players who were getting free games, the wagering requirements often meant that most players didn't make a profit. Free spins can also be attached to reload bonuses to encourage players to make further deposits at the casino. Another popular offer at many top online casinos is a Game of the Week promo where players make a deposit and get free spins on a newly release slot machine.
No Deposit Free Spins : Due to the increasing number of online casinos, operators needed something to help them stand out from the competition and this is what led to the introduction of the no deposit bonus in online casinos. With this, players got to play free casino games and win real money without them ever having to make a deposit. It was an instant success and free spins on NetEnt's Starburst slot is still one of the most popular offers. No deposit spins still have wagering requirements but because new players can play free games, they are still very appealing. There is nothing to lose from the player's perspective and one lucky spin is all they need to win big.
No Wagering Spins : This is the latest iteration of the free spins bonus and it is where wagering requirements have been removed. Most non-wager spins offers require players to make a deposit although a couple of operators have offered these with no deposit. The biggest advantage to this type of free spins offer is that any winnings earned are instant cash and can be withdrawn immediately. The downside is that most operators will have a cap on the maximum payout.
The Future of No Deposit Bonuses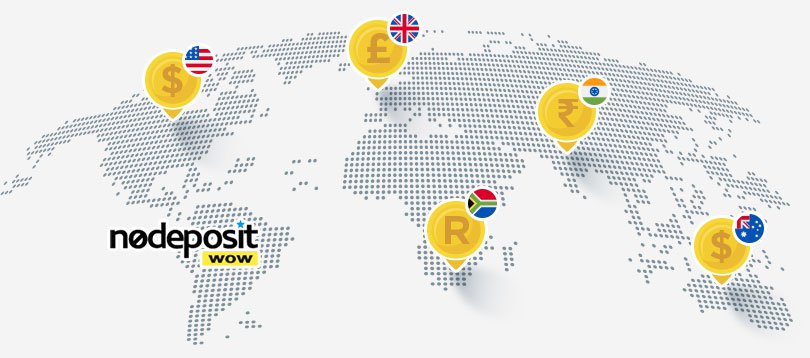 As the pursuit for new customers and exponential growth evolves, operators will look to emerging markets such as Latin America, India, Asia, and other regions in the world where there is very little exposure to internet gambling. There is no doubt that no deposit bonuses will play an integral role in encouraging new signups and building brands in these countries. Emerging markets are not the only environment for these incentives to thrive. As markets like Australia and the United States move towards regulating a market that these countries outright banned, the early days of developing the legal market have the potential to offer players in those markets the opportunity to cash-in on these offers too. If anything, the global COVID-19 pandemic has lit a fire under government decision-makers to look at innovative ways to generate new sources of revenue. The forced closure of huge land-based casinos, many that opposed online gambling laws changed as they feared it may affect their revenues, has forced these massive enterprises to adopt a dual focus and look to bring online revenues into their arsenal. This is all great news for online gamblers, and it may lead to the presence of legal no deposit bonuses in these countries.
However, the resurgence in no deposit bonuses and free cash offers may not last very long as more countries follow stricter regulations on free gambling promotions like it currently being seen in the UK and in Belgium. In the UK a ban on the advertising of free bets came into law on the 15th of July 2020 and further restrictions are due to come into place at the end of 2021. New gambling advertising rules were announced for Belgium in December 2020 which aims to encourage responsible gambling and it includes a ban on partnerships between league clubs and gambling companies that are not licensed in the country. There is a huge push to promote responsible gambling around the world and no deposit casino bonuses and free bets are paying the price for this. Will they disappear altogether? That is highly unlikely, they will just have to be advertised in a different manner.
Due to the competitive nature of the online casino market, operators are always trying to outdo each other in terms of the promotions that they offer. As such, while demand for no deposit bonuses is there, operators will continue to offer them in a bid to attract players and capitalize on the market. How the no deposit bonuses grow, and change is something we can't predict but it is a certainty that they will remain and become more innovative as we have seen over the years with the introduction of huge real money sign-up packages and no wagering free spins. In the big picture, don't expect these attractive offers to disappear anytime soon.